Featured
Contact Us
South Location
Phone: 612.412.1448

North Location
Phone: 612.326.4575

GoatGuns Die Cast Model
place order

GoatGuns are very authentic 1:3 die cast models of your favorite firearms. We offer a number of options and each model has it's own unique features. Assembly is simple and only takes a few minutes. They include "ammunition" but, sorry, they are non-functional. Despite being non-firing many of the parts do move as they should such as; collapsible stocks, pressable triggers, bolt movement, and various other authentic features.
Models are made for display and either include a custom stand or utilize their own bipod for display.
Add a GoatGun to your collection today!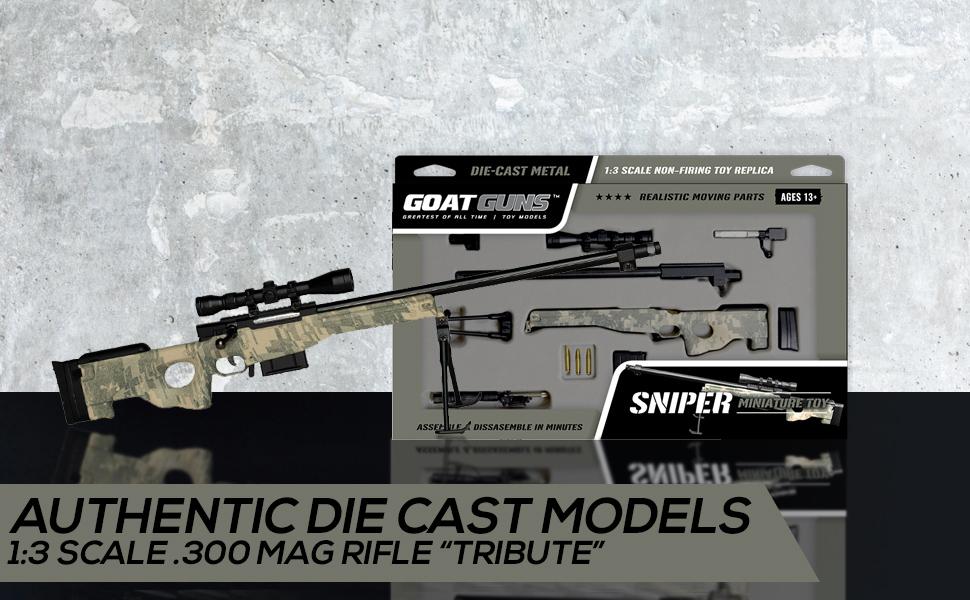 Price: $45 $40
In Stock
If you have questions or can't find what you're looking for please contact us via our website or email us at sales@sixsigmaarms.com. We have access to significantly more items than what we have listed on our website.
Note: Items marked "In Stock" are on site at one of our facilities and ready to ship immediately unless the item notes indicate otherwise. Items marked "Available" are available through one of our distribution channels and will be acquired as soon as possible to fulfill your order. Select items are available for "Backorder" as well. These items will be ordered (or already have been ordered) and will be fulfilled as soon as they are received. Payment is due at the time of your order. For special arrangements, please feel free to give us a call. Thank you!